I recently purchased two of the bumGenius bamboo fitted diapers for Elijah to try out. I got a size medium for my son who is about 19lbs.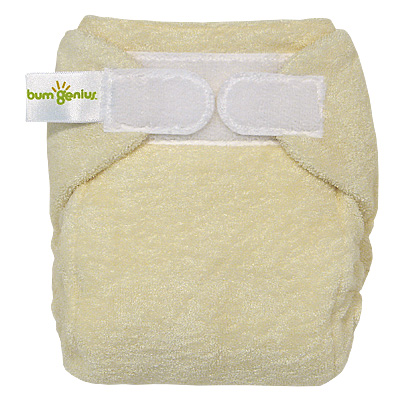 Fit:
This diaper is much trimmer than other bumGenius diapers which is great for skinnier babies. My son is on the chunkier side and they fit him well. The hook and loop closures make for an extremely adjustable fit around the waist, and they have a fold down laundry tab inside for washing.
Performance:
These diapers worked very well. I tried them overnight the first time. When Elijah woke up the diaper was extremely soaked, but he is a heavy wetter at night. These diapers do have a microfiber inner to wick the moisture away which does what it's supposed to during the day. The bamboo fabric is very soft against baby's skin, which I really like.
Ease of use:
These diapers are very easy to use. They are not waterproof and do require a cover. The hook and loop is simple and allows you to get the correct fit on the first try. Laundering was simple, we just continued with our normal wash routine of a cold rinse then a hot cycle with an extra rinse. We have not had any problems with stink or staining.
Value:
These diapers were fairly priced at $10.36, which is on the lower end of the price scale for some fitteds. The medium is a great size and will probably last a while so we won't have to purchase any diapers for a bit.
Conclusion:
These are great diapers. I could go either way with the fact that there's a microfiber insert sewn into the middle because I prefer all natural fibers, but I do like the fact that it wicks moisture away from my baby's skin. I would probably purchase some more of these once my son fits into the next size.